There are multiple ways in which you can make your home spring proof without harming your wallet anymore.  There are a few things that you need to do for spring home care. We are going to share a few among them.
Let's start with your roof. Roofs are of various types and you need to take action based on your roof type. Fix the leaks, damages and missing tiles in time so that you don't face any problem in the spring months. Due to hail, ice or snow accumulation on the roof the chances are high for roof damages in winter. So before the spring arises get the inspection done.  Better hire a roofing expert for inspection and fixing.
If you are the resident of an area which experience April shower then gutter cleaning is a must for you. Water flowing becomes difficult through the clogged gutters. And it means that water will start reaching the home foundation which over time will weaken the foundation causing damages and weakening. If the gutter is not cleaned in the time it will turn out to be expensive to repair foundation.
Check the chimney of the house and if it appears leaning like the Pisa Tower then there is some problem with the foundation. If you find plants growing right in between the chimney cracks then that may lead to water leakage and need to be fixed. The water being acidic will create rust or dampen the roof wood causing serious damage.
It's time for maintenance of heating, ventilation as well as an air conditioning system of your property. It's true that it will cost you high to avail the services of an HVAC professional to check the system. Here one thing that you need to keep in mind is that routine maintenance will cost you less when compared to the cost of major fixes which you may need to undertake if routine maintenance is not done. Get in touch with your HVAC expert for maintenance service.
Spring is the time when you need to take care of the landscape of the house. You can consider planting new trees in your garden so that you can Mother Nature can offer you some cool breeze and save the electricity bill.
Get your dryer vent cleaned to make it efficient to work properly and many times you need to dry clothes indoors in spring
Fix all cracks on walls before spring arrival as it will make your home energy efficient
Above are some of the important things that you need to ensure for your home spring care.
Infographic : DIY Tips to Keep Your Home Super Clean in Spring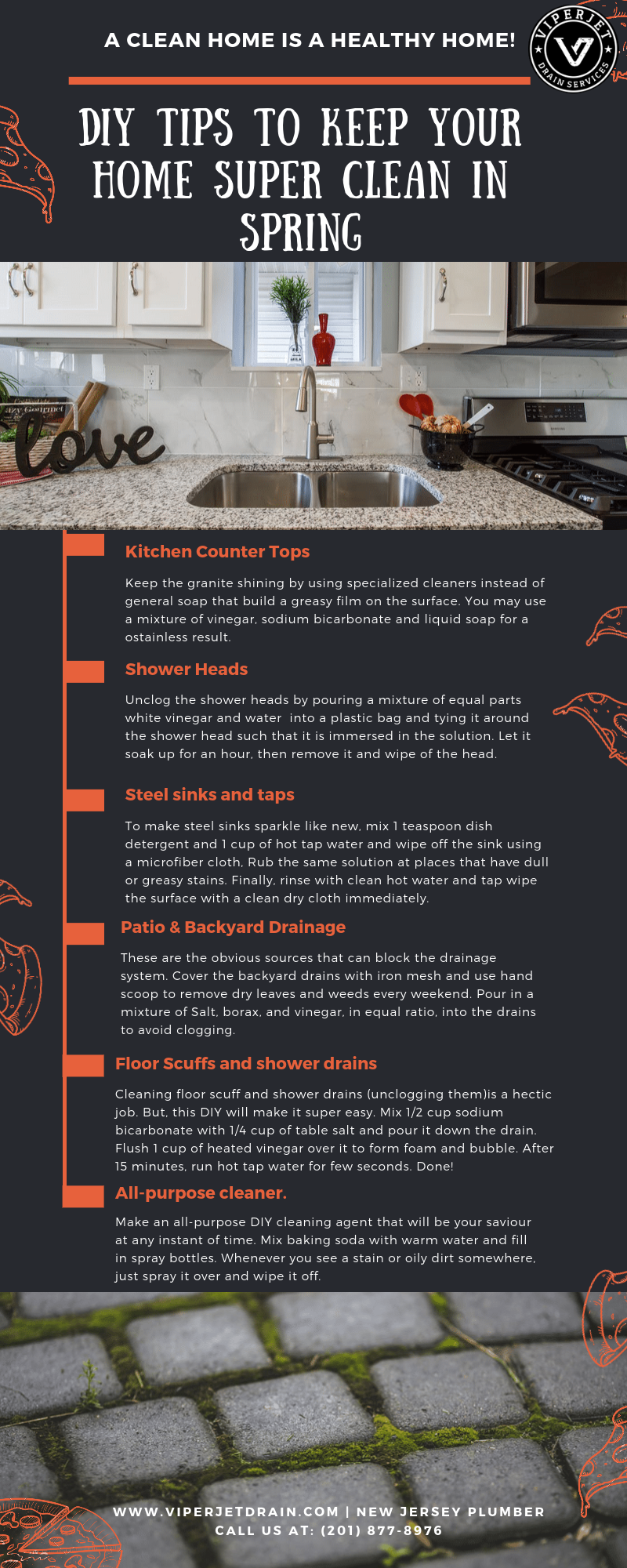 Share this Image On Your Site
Please include attribution to https://viperjetdrain.com with this graphic.